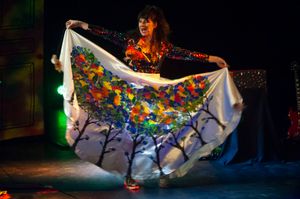 There are no upcoming events right now.
Dana & The Petit Punks presents What Do You Want To Be?, a high energy, interactive bilingual electropop show in English and French. This highly original one woman show will have both children and adults on their feet dancing and singing in two languages. The show opens with the simple question What Do You Want To Be? Using beats, dance, comedy and pop music to interact with the audience, Dana unfolds a tale of the inner child on a journey through positivity, joy and perseverance. Twelve catchy, original songs are presented with the goal of dancing and singing together as a community. You can be anything you want to be!
Dana & The Petit Punks présente What Do You Want To Be?, une comédie musicale bilingue en français et en anglais pour les enfants. Bienvenue dans l'univers de Dana, qui nous invite à un voyage musical pop et rock bilingue pour les plus jeunes. Dana est une musicienne multi instrumentiste qui nous vient de New York et développe en France ce projet autour de l'apprentissage d'une langue étrangère et du bilinguisme français-anglais. A travers ses chansons accrocheuses aux vers interchangeables entre les deux langues, elle invite les enfants à découvrir un monde où l'imagination et la créativité servent à l'apprentissage de soi et de l'autre, dans une ode à l'optimisme. De la pièce d'où part son histoire, accompagnée de ses marionnettes, Whip Poor Will, Engoulevent, Poulet, Hérisson et Ninja, on part en exploration, en passant par la forêt, la ville, les rêves, jusqu'à tendre l'oreille vers les confins de l'univers. Une experience musicale et linguistique menée par Dana tour à tour conteuse d'histoires et interprète.